AN INTERVIEW WITH A SUCCESSFUL ONLYFANS USER.
Todays topic is fetishes an OnlyFans but more importantly fetishes and OnlyFans, as university student I'd be lying if I said I hadn't considered signing up to the site and making some money alongside my studies.

WHAT IS ONLYFANS?

          Image source: https://commons.wikimedia.org/wiki/File:OnlyFans_logo_3.jpg
OnlyFans is a social media platform, users create content and post it onto their only fans feed for their followers or "fans". Fans pay a subscription for content and there are possibilities to earn more money in private chats. Although the platform can be used by influencers either fitness influencers showcasing their workouts or fashion influencers, it has been popularised by its use of adult content typically of the pornographic variety.
In order to find out what really goes on within the platform I decided to just go straight to the source and interview very successful OnlyFans user Shwe Gold. With 18.6k followers on Instagram and 5.0k likes on OnlyFans it's fair to say he's very popular within the online community. It could be his personality and charisma, but it could also be the fact that he poses in many of his Instagram pictures and videos half naked, flaunting one very sizable asset. The asset I'm sure adds to his ever-growing OnlyFans following. Without further ado, let's get into the interview.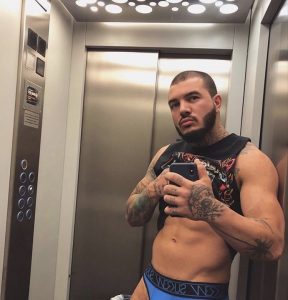 Image Source: @shwegold
How long have you been using OnlyFans?
I uploaded a video to Instagram November 2018 that got taken down for being inappropriate, I remember seeing comments on the video like "@shwegold OnlyFans coming soon" I signed up that same day.
Which fetishes have you come across and what would you say the most popular one is?
Most common one is sending my dirty underwear across the world, there's something about c*mmy briefs they can't get enough of, I shoot a personal video of the underwear turning dirty then send it first class to his or her doorstep. Another common fetish is boyfriends asking me to say their girlfriends name as I play with myself.
Do you supply fetish content on your feed or only if requested?
Supply & demand babyyy. I've been Harry Potter waving my wand over my penis casting spells to turn him into an aggressive beast. Dressed up as spider-man flipping and swinging around the living room until I shot Shwe-webs all over my comic books. John snow from game of thrones call me the king of the n*bs as I drank wine in my fur coat while my sword was swinging between my legs. I've been farther Christmas bringing presents early to naughty girls under the Christmas tree. As for food I've got a neat little trick where I can peal a banana skin with my butt cheeks really gracefully, I also tend to smash eggs with my sausage from time to time.
Would you say fetishes are a really popular request on OnlyFans?
I think when my subscribers build a report with myself, they don't need all the bells and whistles, it's more so just being able to talk to me in a way only on OnlyFans. It's on my feed for everyone to see, this is where I'm more creative to show them how versatile and how far I am willing to go.
What's the most unusual fetish request you've had so far?
I have a guy that pays me to flex after gym sessions completely naked with my flaccid penis for 10 minutes whilst he asked me questions like "been on holiday much recently then mate?"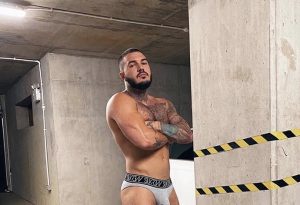 Image Source: @shwegold

Has anyone ever asked you for anything that has made you feel particularly uncomfortable?
YES!!! Whenever someone's asked for a freebie.
Do people fetishise any of your characteristics?
I speak Spanish to one client that's all he needs, also another guy likes me to say particular words such as "wedgie, butt hole, musky, pull it out" that's enough for him.
Do you get requests for fetish content from any particular demographic the most?
You reckon off the top of my head, men ages from 30 to 60 is my main clientele. Women haven't really put much money into my pocket.
Do you enjoy doing fetish content?
I think I found it exciting when I started, now it's just something I'm being asked to do! I make sure I go full steam ahead but I'm not getting off on it that's for sure.
Do you have any fetish's yourself?
I love freckles & scars on women that really gets me going. I also have a fantasy of f**king in sweaty gyms all over the equipment whenever I walk inside mine.
So, there you have it, an insightful and juicy look into fetishes on OnlyFans.
If anything Shwe said has interested you, his Instagram is @shwegold and most importantly his OnlyFans page www.onlyfans.com/asboloco.
IN THE NEXT BLOG POST I WILL BE TALKING ABOUT FETISHES IN TELEVISION AND FILM.
DON'T FORGET TO FOLLOW THE FETISH INSTAGRAM AND TWITTER BELOW FOR UPDATES ON THE NEXT BLOG POST.